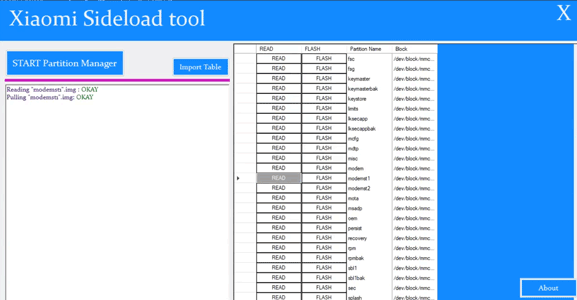 Xiaomi Sideload is a Partition Management app for Xiaomi smartphones running on MIUI 13 & Newer. with the help of this tool, you can Read & write any Partition on a locked bootloader.
Features:
create Partition table
Import partition table from readback
Write any Partition on the locked bootloader
Read any Partition on the locked bootloader
Requirement:
Credit:
developed by ROMProvider.COM
Download Links:
How to use:
Install ADB driver on pc
enable USB debugging and connect the device to the computer using a USB cable
run the tool, and click Start Partition Manager, once the partition table is read, Your Phone rebooted to Stock Recovery
from the bin folder save demo2.txt to somewhere else it will help you when your device is bricked or locked by FRP or Mi Account lock
from the recovery enable Mi assistant
Then select the Read button to Read a partition and the flash button to write a partition.
How to bypass Mi Account:
Run tool
Click Import table & locate demo2.txt read by this tool
Connect Phone in recovery enable Mi Assistant
browse Persist partition, select Flash Option, Locate Persist image from original stock firmware & write
then patch the Modem Image from the stock firmware and write it under the Modem partition
How to bypass FRP lock:
Run tool
Click Import table & locate demo2.txt read by this tool
Connect Phone in recovery Enable Mi Assistant
browse FRP Partition, select Flash Option, Locate frp image from original stock firmware & write
reboot